Patient Targeting Solutions
Better outcomes for patients. Better outcomes for our clients.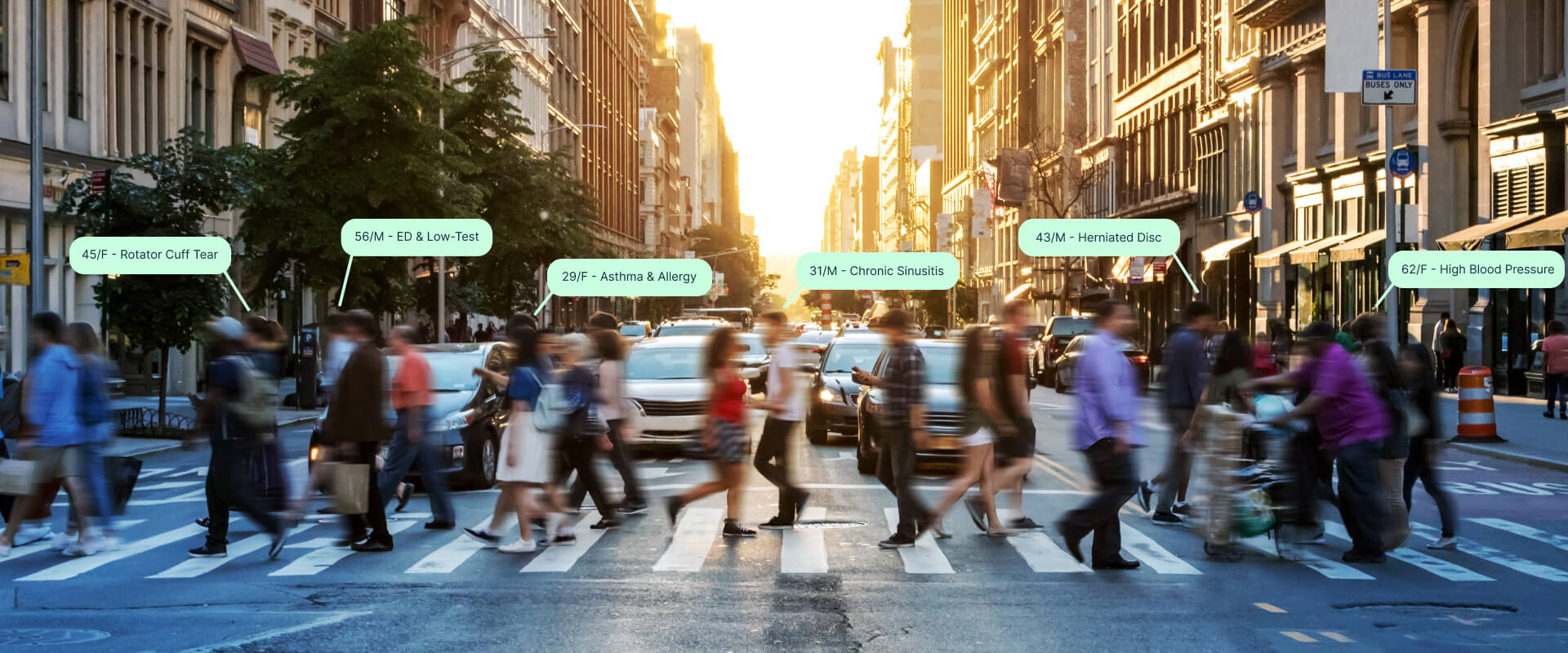 Targeting Patients at The Right Time
As the healthcare landscape becomes more focused on the patient, patient engagement is increasingly recognized as an integral part of successfully developing more effective marketing campaigns. At its core, patient engagement is about better outcomes. But, more broadly, it's a set of tools, processes, and relationships that empower patients to make informed decisions and actively participate in their treatment journey.
Interacting with a more informed, confident, and empowered patient population requires examining new and more effective ways to engage these decision-makers.
Data-Driven Decision Making
Before engaging in integrated direct-to-patient marketing and lead generation campaigns, Levo Health needs to know as much about your past and current patient base as possible. This includes what kind of habits they have on social media and elsewhere online. This is done through people-based identity targeting.
What is People-based Identity Targeting?
People-based identity Targeting in healthcare marketing refers to the strategic practice of curating and implementing advertising campaigns by leveraging authenticated and deterministic user data to accurately identify and engage specific individuals across various media channels and devices. This approach prioritizes the individuals' unique health journey, recognizing their specific needs, behaviors, and medical contexts to deliver highly relevant, compliant, and empathetic marketing messages.
People-based identity Targeting provides Levo Health clients with true omnichannel reach to their consumers. Real-world touchpoints comprise offline data and are deterministically linked with addressable online identifiers to provide a people-based, omnichannel marketing approach, enabling Levo Health to reach your target audience with a personalized consumer experience.
People-based identity Targeting is crucial in direct-to-patient healthcare marketing, as it not only amplifies the precision and impact of campaigns but also ensures that every communication is deeply rooted in understanding and supporting the unique health journey of each individual. This strategy fosters the creation of meaningful connections and trust between healthcare brands and their audience, promoting not just a product or service, but a relationship that is mutually beneficial, ethically sound, and progressively impactful.
In the multifaceted world of healthcare marketing, where sensitivity meets specificity, People-Based Identity Targeting stands out as a conduit for building bridges between healthcare brands and the individuals they seek to serve, ensuring that every message, interaction, and engagement is resonant, respectful, and reliably informed.
Our modern approach to analytics uses technology to combine large-scale data sets in a privacy-safe way. Levo Health's data models include Rx, OTC, clinical, claims, consumer, hospital, media data, and more, representing over 230 million health lives.
Advanced Patient Targeting
Knowing how patients interact with content and their preferred channels helps Levo Health build out a connected experience. These engagement personas allow us to build engagement strategies that include the right balance between push and pull channels for each group. Reaching and influencing patient healthcare decisions wherever they are on the web today is an increasingly important element of any healthcare marketing strategy.
ICD-9/10 Targeting
ICD-9/10 codes are used to target patients who have received care for specific CPT codes. This de-identified data allows Levo Health patient targeting campaigns to focus on specific cohorts of patients more likely to engage with disease state or procedure-based marketing campaigns and messaging.
Prescription Brand Behavior
Targeting patients who have been prescribed certain medications by a doctor is the focus of patient prescription brand behavior. This data enhances patient targeting by dividing each audience group according to their specific prescription brands and medication classes. This approach helps identify new audiences that may have related co-morbidities.
Payer or Insurance Type
Payer-specific targeting allows Levo Health to target patient populations by their insurance. Payer-specific data allows Levo Health to target patient audiences with messaging that aligns with our clients' preferred payers.
OTC Product
Purchases
Over-the-counter (OTC) product purchases provide a wealth of information and opportunities for targeting patients with digital marketing, respecting all regulatory and privacy guidelines. Data from OTC purchases is used to segment audiences based on their health needs and concerns, as expressed through their buying patterns. This enables Levo Health to create personalized messages and campaigns, offering solutions that are closely aligned with their individual needs and preferences.
Consumer Brand Behaviors
Consumer brand behaviors, which encompass how consumers interact with, perceive, and engage with brands and their products, can significantly influence digital marketing strategies, especially in the healthcare domain. Understanding consumer brand behaviors helps Levo Health tailor our proposed digital strategies to reflect the actual needs, preferences, and experiences of each target audience. By crafting campaigns that respect and respond to these behaviors, we can foster deeper connections, encourage desired actions, and build mutually beneficial relationships between brands and patient consumers.
Targeting Patients Through Their Care Decision Journey
When a patient has exhausted conservative treatment options, and medical intervention is the next step, the patient inevitably has questions and begins researching things like recovery time, top doctors, cost, and whether or not their insurance covers the procedure.
A recent Pew Research Report found over 70% of all patients begin their care journey online. Using traditional marketing channels and targeting alone to reach these "late-stage" patients no longer works.
Get Started with Levo Health's Patient Targeting Solutions
Navigating through the complex sphere of healthcare marketing, Patient Targeting becomes an essential connector, forging meaningful relationships between healthcare brands and their intended patient audiences. Collaborate with Levo Health to ensure every message, interaction, and engagement is not just resonant and respectful but also thoroughly informed, crafting tangible and supportive results for both your brand and the patients you serve.
As a Premiere Google Partner, Levo Health is in the top 3% of all advertising agencies running ads through the Google Ads Platform. Levo Health is held to higher standards than other healthcare marketing agencies. Levo Health provides Healthcare Companies, Hospitals, Surgery Centers, Medical Practices, and Doctors with data-driven healthcare marketing, sales, and operations.