Practice Builder™ Patient Review Generation
Better outcomes for patients. Better outcomes for our clients.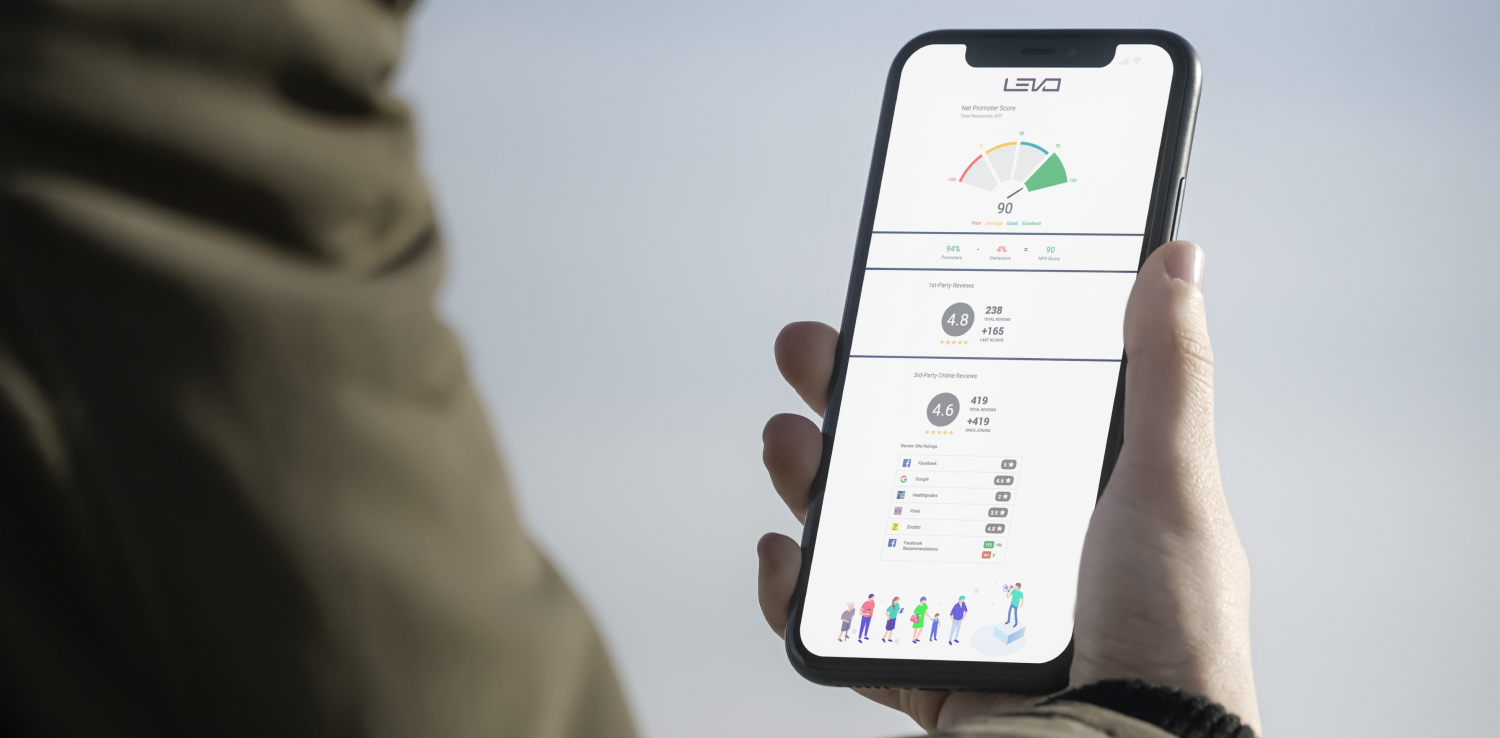 Humanize the care process with real people, highlighting real results.
Levo Health's Practice Builder Patient Review system builds trust and credibility with your past, current, and future patients. Patients have become more savvy consumers and have grown to distrust or ignore unauthentic marketing messages.
Randomly contacting patients to request a testimonial can work only to an extent. For best results, Levo Health has created a platform that allows you to request and receive testimonials at scale. The service and interactions with your staff and providers will be fresh in the minds of your recent patients, so this is a great time to ask them what they thought of their experience.
Bear in mind that recent patients are only going to be able to comment on their experience with you up to this point. This isn't a bad thing. Securing testimonials from patients at all stages of their relationship can help you address and overcome a broader range of objections.
Patient Review = Social Proof
Social proof is a psychological phenomenon where people conform to the actions of others under the assumption that those actions are reflective of the correct behavior. It doesn't matter if that social proof comes from friends or strangers. What matters is that they see evidence from their peers – in this context, other consumers – that the decision they're about to make is the right one.
Practice Builder™ Patient Review Generation
We know local SEO better than anyone. More reviews and better ratings help you harness the power of 3rd party online review sites to improve your website's visibility and ranking in search. With multiple ways to add 1st and 3rd party reviews to your website, you can use Levo Health Practice Builder to turn your site into a sales funnel.
Add Patients Easily
Add patients in just seconds or even automatically to request feedback and reviews with ease.
Automated Process
Our system handles the requests, reminders, personalized content and more to engage your customers. We save you time!
Your Branding
Our emails and messaging are customized with your brand, logo and accent color to have you looking great.
Manage & Respond
Receive notifications for new feedback, reviews and more. Respond right from our system for easy communication.
Market Your Reviews
Use our Review Widget, Conversion Pop-up and social features to market your great reviews and improve your SEO. Let's win your next customer.
Reporting & Insights
Get the data and insight you need to manage, make changes and track progress of your reputation, reviews and Net Promoter Score.
Levo Health Practice Builder Integrates with over 100 online review sites including:

As a Premiere Google Partner, Levo Health is in the top 3% of all advertising agencies running ads through the Google Ads Platform. Levo Health is held to higher standards than other healthcare marketing agencies. Levo Health provides Healthcare Companies, Hospitals, Surgery Centers, Medical Practices, and Doctors with data-driven healthcare marketing, sales, and operations.