Telemedicine Activation & Marketing Services
Better outcomes for patients. Better outcomes for our clients.
Telemedicine, TeleHealth, Remote Care, or Virtual-first Care? Whatever you call it, it's here to stay!
Getting new and existing patients to engage in your telemedicine solution is key to successfully implementing your telemedicine offerings. Levo Health works by targeting the right patients at the right time and providing them with the information they need to make confident healthcare decisions, benefiting your organization. ​​ Levo Health is a full-service healthcare advertising and consulting agency that works with a wide range of physicians, medical groups, surgery centers, hospitals, medical device, pharma, life science, and med-tech, and telehealth companies. ​ With offices in Tampa, New York, and Dallas, Levo Health services forward-thinking healthcare companies across the United States and abroad.​
With so many telemedicine care options available to patients, companies must deploy ongoing outreach initiatives to ensure top-of-mind awareness and utilization of their products and services.
As the healthcare landscape becomes more focused on the patient, patient engagement is increasingly recognized as integral to successfully developing more effective marketing campaigns. At its core, patient engagement is about better outcomes. But, more broadly, it's a set of tools, processes, and relationships that empower patients to make informed decisions and actively participate in their treatment journey. Interacting with a more informed, confident, and empowered patient population requires examining new, more effective ways to engage these decision-makers.
With disparate regulations and a lack of clear reimbursement guidelines across all 50 states, providers and health systems have slowly adopted Telemedicine into their care plans.
Advantages of Implementing Telemedicine In Your Care Delivery Model
Lower Healthcare Costs
By offering remote care, you help eliminate unnecessary, non-urgent ER visits and transportation expenses for standard checkups. Offering telehealth services also helps reduce the number of no-shows in your practice as patients can receive care at a time and place that works for them.  
Increased Patient Satisfaction
Telehealth services increase patient engagement and satisfaction as they are able to commit to their healthcare goals on their time. By eliminating the time patients waste driving to and from your office and waiting in waiting rooms, you show them that their time matters. Virtual visits allow for truly patient-centered care with timely appointments and quick consultations that result in treatment options within minutes. 
Telemedicine During COVID-19
Beginning to incorporate telemedicine during a time of global pandemic can prove beneficial for your practice. For one, patients are staying home, avoiding going outside whenever possible. For your practice to flourish, you need to meet the needs of your patients.  Offering telemedicine ensures that your patients stay loyal. Additionally, your willingness to adapt to change may gain you a bigger following as other practices close their doors.
Telemedicine Post COVID-19
Although telehealth usage has decreased since the peak of the COVID-19 pandemic, it is sustaining a relatively high utilization rate compared to 2019. Recent data suggests that current utilization rates hover around 5.4% vs. pre-pandemic utilization of around 1%.
Many patients may not be aware of the telemedicine options available to them. Increasing telemedicine adoption and utilization is essential to ensure that patients can benefit from the convenience and accessibility of remote care options. Here are some ways to increase telemedicine adoption and utilization: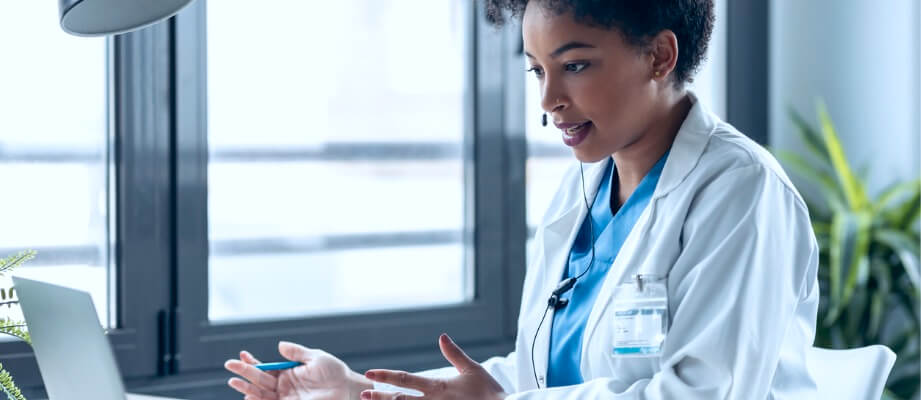 Levo Health's Telemedicine Expertise
Levo Health's Telehealth Activation Team has experience in successfully integrating telemedicine in a variety of medical organizations ranging from small practices to large health systems. We have streamlined solutions to activate new and existing patients and encourage ongoing adoption of telemedicine within your organization across a range of treatment areas and care models. 
Telemedicine Platforms
There is no one-size-fits-all telemedicine platform for our clients. Each specialty will require different technological features including video chat, ePrescribe, built-in billing, and simple integration with your EHR. Our Telehealth Activation Team works with all types of telemedicine platforms, however, we have a hand-selected a range of the best platforms to help you determine the best fit for your practice.
Serviceline Expertise
Telehealth services can be implemented in most practices regardless of their specialty. The Levo Health team has activated telehealth solutions in a wide variety of practices, including medication management and mental health companies, orthopedics, ENTs, gastroenterologists, cardiologists, concierges, physical therapists, dermatologists, primary care physicians, and pediatrics. With the right technical training and equipment, most medical specialties can streamline their services through telehealth. 
New Telemedicine Patient Acquisition
Levo Health's modern approach to patient targeting utilizes technology to combine large-scale data sets in a privacy-safe way. ​ Levo Health's data models include Rx, OTC, clinical, claims, consumer, hospital, media data, and more, representing more than 230 million US health lives.​ Levo Health works by targeting the right patients at the right time and providing them with the information they need to make confident healthcare decisions, benefiting your organization. 
As a Premiere Google Partner, Levo Health is in the top 3% of all advertising agencies running ads through the Google Ads Platform. Levo Health is held to higher standards than other healthcare marketing agencies. Levo Health provides Healthcare Companies, Hospitals, Surgery Centers, Medical Practices, and Doctors with data-driven healthcare marketing, sales, and operations.