The healthcare industry has long focused on the quality of medical treatment as the primary factor in patient satisfaction. However, a recent report released by Accenture found patient experience factors such as convenience, communication, and respect to be just as important to patients when choosing a healthcare provider.
Failure to meet patient experience expectations is a major contributing factor to why some patients are willing to switch providers.
A Shift in Health Experience Expectations
As the profound role of consumerism in healthcare increases, patients have more options than ever when it comes to finding a provider. With the rise of telemedicine and the increasing prevalence of retail clinics, patients can easily switch to a new provider if they are not satisfied with their current one.
Patients are Holding Providers Accountable
According to the Accenture report, 30% of people selected a new provider in 2021 (up from 26% in 2017), and 25% of those individuals switched providers because they were unhappy (up 18% from 2017).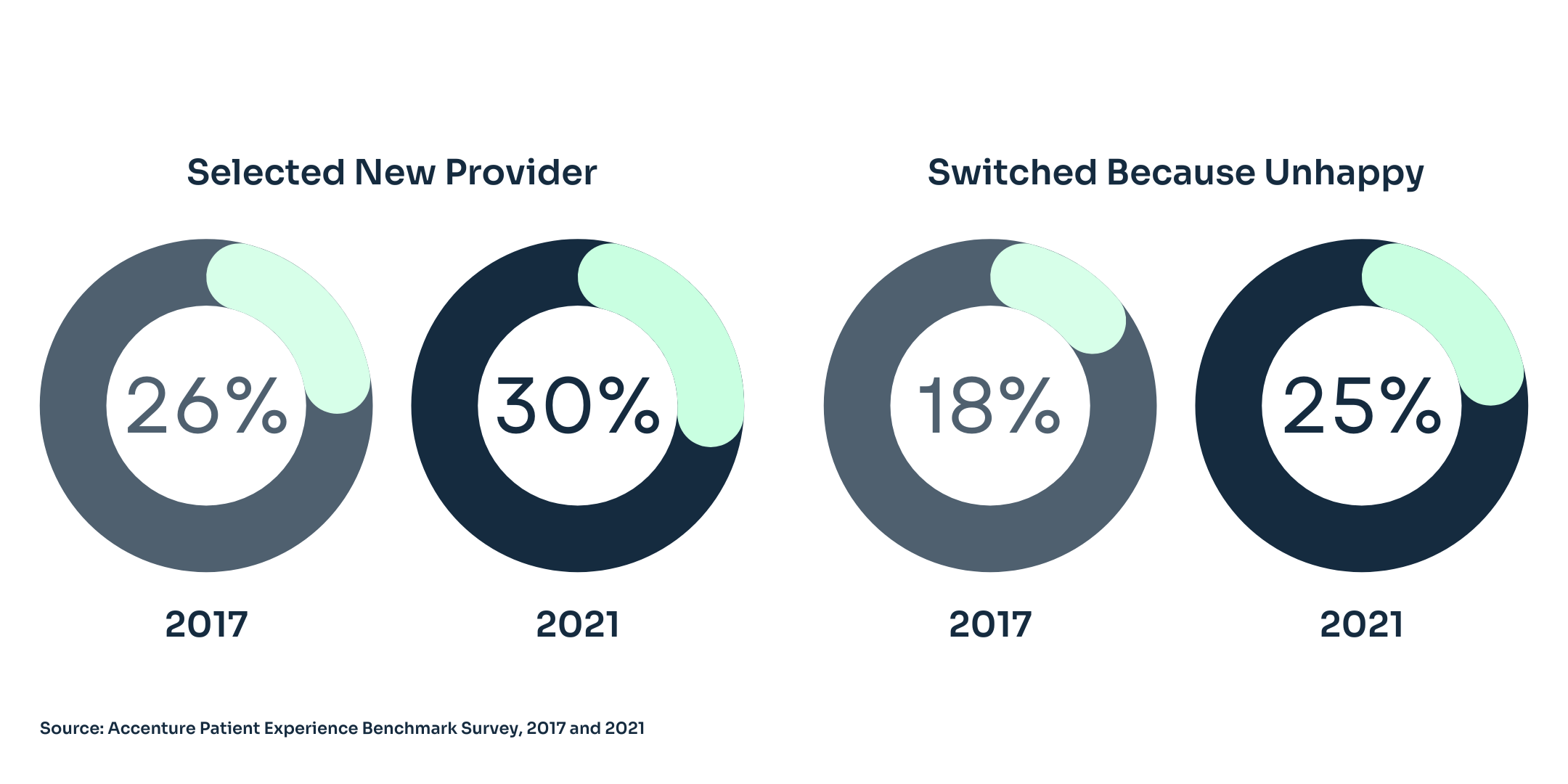 Navigation factors, such as difficulties in doing business, poor experiences with administrative staff and inadequate digital solutions, are among the most commonly cited reasons patients have switched.
People Demand a Better Experience from Payers
The Accenture report also found 49% of people who left payers did so due to experience factors like:
Inaccurate or inconsistent information

Unanswered questions

Poor experiences using digital tools

Poor customer service

Discomfort with how payers used their personal data
Most patients expect more from their plan's digital offerings, including easier ways to understand and choose coverage, view out-of-pocket costs, and manage claims processing. Similarly, customer service is an important dimension of a plan's quality.
How to Deliver a Higher-quality Patient Experience
This trend toward prioritizing patient experience has implications for both payers and providers. Payers may need to consider the patient experience as a key factor in their network development and contracting strategies. Providers, on the other hand, must focus on delivering a high-quality patient experience in order to retain their patient base.
Prioritize Access and Convenience
Patients want the convenience of a seamless and effective experience. Providers should strive to provide easy access to care, such as through online appointment scheduling platforms or telehealth services.
Customer service and administrative staff should also be well-trained to provide timely and accurate information. Providers should have a system in place that allows patients to easily understand the cost of medical services, coverage options, and payment policies.
Make it Easy to Work with You
Providers should strive to make it easy for patients to access their medical records, submit questions and receive timely responses. They can use digital tools such as patient portals, apps and text messages to ensure that the patient experience is both personalized and efficient.
Whether taking in-office or virtual appointments, providers should take the time to listen and be respectful of patients' needs. Taking these steps can help cultivate loyalty with existing patients while also attracting new ones.
Earn Patient Trust and Respect
In addition to providing convenience and access, providers must also strive to earn patient trust and respect. This can be done by emphasizing transparency in the care process through clear communication about diagnosis, treatment plans and expectations for outcomes.
Providers should also ensure their billing practices are transparent and consistent with industry standards.
Start Meeting New Patient Expectations
Improving the patient experience can be a complex task, as it involves addressing a wide range of factors such as wait times, communication, and the physical environment of the healthcare facility. However, the effort is worth it, as a positive patient experience can lead to increased loyalty, higher patient satisfaction scores, and better health outcomes.
Levo Health is a full-service marketing and consultancy firm that helps healthcare organizations build relationships with patients and stakeholders. We specialize in developing bespoke patient experience strategies that drive loyalty, engagement, and revenue for our clients – even with reduced marketing budgets. 
Contact us today for more information about how we can help you meet the growing needs of your patient audience.